Copper rollers Copper rollers, with their smooth, tight copper grain structure, put up a hardbr front to abrasive wear in ink systems.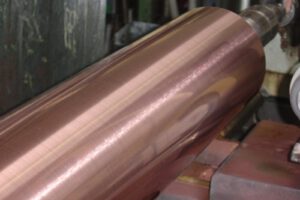 • Our high hardness rating of 200+ Vickers vs. soft, porous copper means longer wear life.
• Oleophilic surface has natural affinity for ink, which reduces stripping and ghosting.
• Superior structure and thickness offer longevity and lower operating costs.
• Fine surface finish results in less friction, minimal generation of heat, more even distribution
• of ink and longer life expectancy.
• Unlike nylon and hard rubber, minor corrections to abrasions can be made to copper rollers
while on the press.
• A good choice for the quality conscious printer.